Leadership
Leadership is a partnership between our inspiring clergy, our friendly and helpful staff, and our dedicated lay leaders.
Rabbi David K. Holtz
914-631-1770 x 17
Rabbi David Holtz was ordained at the Hebrew Union College-Jewish Institute of Religion in New York in 1987. After serving six years as the Associate Rabbi at Har Sinai Congregation in Baltimore, he was called to the pulpit of Temple Beth Abraham in 1993, where he is in his his 26th year as spiritual leader.
In addition to his many congregational responsibilities, Rabbi Holtz is very involved in the local community. He is a past-president of the Westchester Board of Rabbis, made up of rabbis of every denomination. He has chaired the Rivertowns Clergy Association, which works to improve interfaith relations, and which serves as an important moral voice in the community. He has twice served as president of the Rotary Club of the Tarrytowns, a service organization which helps fund local and international non-profits. He also teaches community-wide Adult Education courses, and is a guest-speaker on a variety of subjects. Rabbi Holtz lives in White Plains with his wife, Renée, and their three children, Yoni, Avi and Shira
Cantor Margot E.B. Goldberg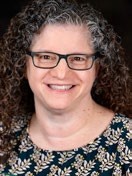 914-631-1770 x 11
Cantor Margot Goldberg, fondly known as Cantor Margot, has been serving at Temple Beth Abraham in Tarrytown, NY since her graduation from Hebrew Union College in 1994. Cantor Margot loves teaching and singing with children of all ages as well as adults. She finds fulfillment in celebrating lifecycle events with the families she has come to know over the years she has been at TBA. Cantor Goldberg is married to Barry Goldberg, a Programmer for IBM. They are the proud parents of Tamir, who is the light of their lives.
Erica Newman, Director of Operations and Engagement
Stessa Peers, Director of Religious School and Youth Engagement
Stessa Peers is stepping into the position of Director of Education and Youth Engagement after serving our community as Director of Youth Engagement since the Fall of 2016. Stessa loves working with youth and teens at Temple Beth Abraham and helping them cultivate a lifelong passion for Judaism, leadership, and Tikkun Olam, repairing the world. Giving youth and teens the tools to help them forge a Jewish identity is something she views as one of the most rewarding aspects of this position. Stessa is very excited to step into this new role, and to continue to lead our children, teens, and families towards a bright Jewish future.
Stessa has always had a passion for Jewish history and chose to study at Binghamton University because of its history and Judaic Studies departments. While there, she focused on marginalized groups within Judaism and earned a double degree in History and Judaic Studies. She views this passion as a calling that is reflected in her work and in the enthusiasm she puts into youth engagement and TBA's Religious School.
Stessa is a lifelong member of Temple Beth Abraham and is proud to give back to the community where she forged her own Jewish identity. In our community, she has led programs for Adult Education, Women's Circle, and Movie Mavens and has been part of projects like TBA's year long LGBT+ inclusion project with Keshet and is currently working on the URJ's Community of Belonging project. She is committed to and passionate about creating space at TBA that is safe and inclusive for all.
Irene Metz, Clergy Coordintor
Irene Metz has been the Clergy Coordinator at Temple Beth Abraham since March 2014. She is a long term member at Community Synagogue of Rye where her personal volunteer involvement started small and has grown over the years. She has chaired the membership committee, served 6 years on the Board of Trustees, was a part of Reimagine, participated on search committees and is currently recording secretary on the Executive Committee. When her 35 year professional career in supply chain management at Scholastic, Inc. (publisher of children's books, including Harry Potter and Hunger Games) concluded, the logical step for the next phase of her career was to combine her prior work experience with her commitment to the Jewish community – Temple Beth Abraham seems like that perfect workplace. She feels particularly lucky to have two synagogues to call home!
She and her husband Jonathan live in Rye Brook in an almost empty nest, with their two adult children, Joshua and Isabel, off pursuing careers and education. Irene enjoys attending the ballet, theater and movies, reading, gardening, and spending time with family and friends.
Stacey Notrica, Administrative Assistant
Larry Murray, Facilities Supervisor
facility@tba-ny.org


914-631-1770 x25
Jaime Valencia, Assistant Facilities Supervisor
Volunteer leaders guide many of Temple Beth Abraham activities as members of our Board of Trustees, and committee chairs. The Board of Trustees meets monthly, usually the 1st Tuesday of each month at 7:30pm. Board meetings are open to all members of Templ
Thu, September 28 2023 13 Tishrei 5784